Since he was three months old, my son has been traveling around this planet. We've taken him on some short and sweet adventures as well as some long haul (5+ hrs) flights. In all our travels, these items are the ones that make the journey 100x easier. If you're looking for some gift ideas or looking to travel with your little one - check out my top five essentials for travling with a toddler (or baby!)
This item was a gift from my husband's boss, who also loves to travel, and has been so easy to use. The crib is lightweight but sturdy, and has fit in every location we've stayed. It folds up easily into a rectangular shape, and after being bag-checked on numerous flights, there hasn't been one issue. The frame is also tall enough that my now two-year-old still can't climb out and long enough that he can sleep comfortably.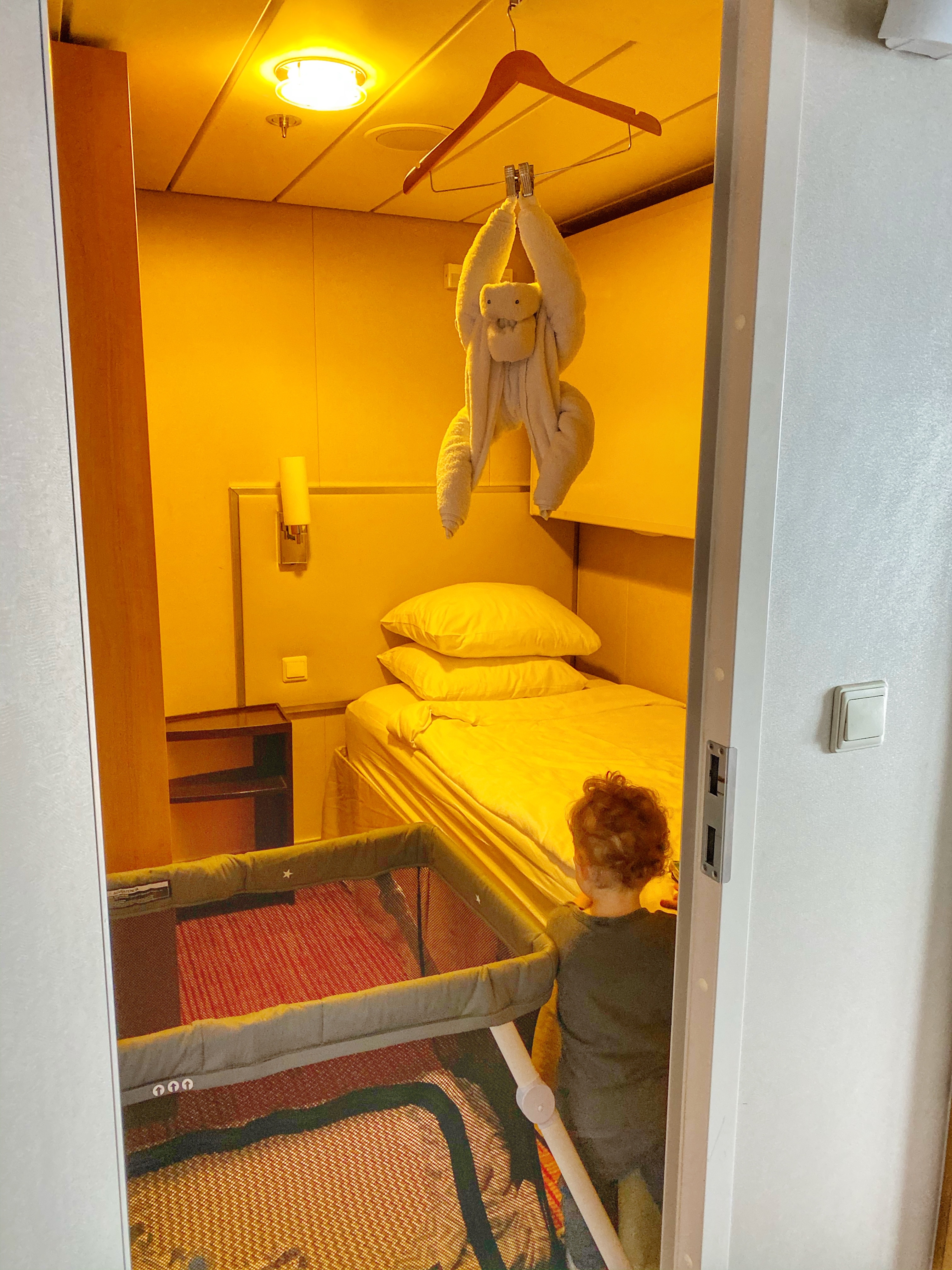 Small room on cruise ship, Guava fit perfectly
If your little needs white noise to sleep, this item is a big life/sleep saver! Michael has been sleeping with a fan since he was born. When we travel, having a similar noise is a big help with his adjustment to sleeping in a new place AND gives us sound cover if we stay up later. The Marpac is small and easy to pack but produces a loud enough sound with the ability to control the volume. The type of white noise is also changeable.
TIPS: Should you be somewhere without easy plug access, the machine comes with a USB charger - in between nap time and bedtime, I charge the device, and it has always lasted through the entire sleeping time unplugged. It's also easy to plug the device in and hang near the crib if a plug is handy!
This particular item I researched for quite a while as we came closer and closer to the end of our infant car seat's use. Infant car seats are easy to travel with, convertible car seats, not so much. My top priority was finding a safe option, and secondly, something lightweight and easy(ish) to move from car to car. The Combi fits all of my criteria. It's 15.5 inches wide and only 16 lbs. We latch the seat in, line it up with the safety measures on the bottom, and since we still use rear-facing, tether to the front seat hook for a more secure lock. Installation is relatively quick, and we've checked the Combi on flights with no problems.
Note: We used this as our every day car seat for about six months in a Tesla 3 since it works great in tighter spots. When we moved to the Tesla X, I went with a larger seat (Clek Foonf Convertible Car Seat) and made the Combi solely for travel.
This stroller is my go-to for travel for one, simple reason: it folds up perfectly enough to fit in the overhead storage bin on an airplane. Compared to similar models, it's also half the price. While it might not be as fancy as our everyday stroller, the Uppa Baby Cruz, the Besrey still looks nice, is very lightweight, and maneuvers well. My husband was delighted at how convenient it was the first time we traveled with this stroller.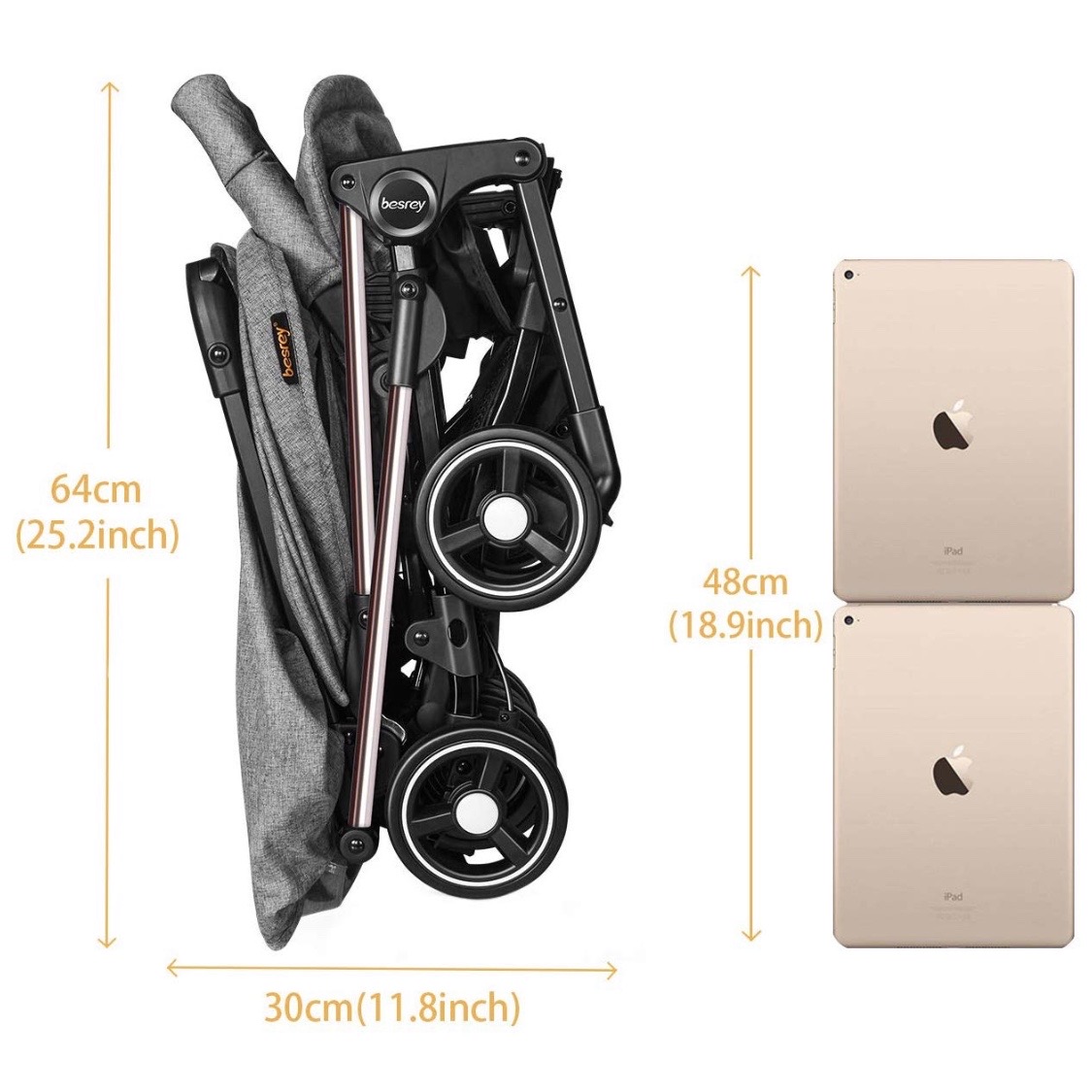 The last item on my list came as a surprise to me, and I even ended up ordering an additional set. These packing cubes are great for organizing your little's clothes and items. Baby and toddler clothes are so small, and they ultimately get lost in the mix if thrown in with adult items. I decided to try out the Amazon packing cubes to see if it could help me keep track of all of Michael's stuff, and that is precisely what they did. Not only did the packing process improve, but also the use of space in my suitcase. Compartmentalizing allows me to fit more into my bag. When we arrive at our destination, I move the cubes from the suitcase into a drawer, making Michael's unpacking take about two minutes.
Wishing you easy travel and happy wandering!