Weight loss and fitness, in general, have been a love/hate relationship for me since my early twenties. Once I had a baby, the relationship grew even more complicated. I've recently begun a self-campaign I like to call "get into a healthy BMI range, or you aren't having another kid." Thus enters BodyHealth IQ, an at-home medical testing service backed by a team of professionals and a variety of test categories.
For $15 off your first test use code Wander15 !
I knew at the beginning of my health journey I needed to check things like thyroid and metabolic functions. While I do have insurance, specific tests aren't always covered and being a stay-at-home mom makes going to a testing lab really, really hard. BodyHealth IQ is a huge time saver in this regard because you do all the sample collection right from your own home and the turn around time on results is swift. I decided to try out their Fitness & Metabolism test and have detailed my experience below!
Ordering and receiving
After looking over the multiple at-home test options for general/women's health, I decided on the Fitness & Metabolism test. I liked this option because it focuses on issues important to me like energy, weight, and sleep. Since having a baby, I want to make sure certain hormone levels are in check.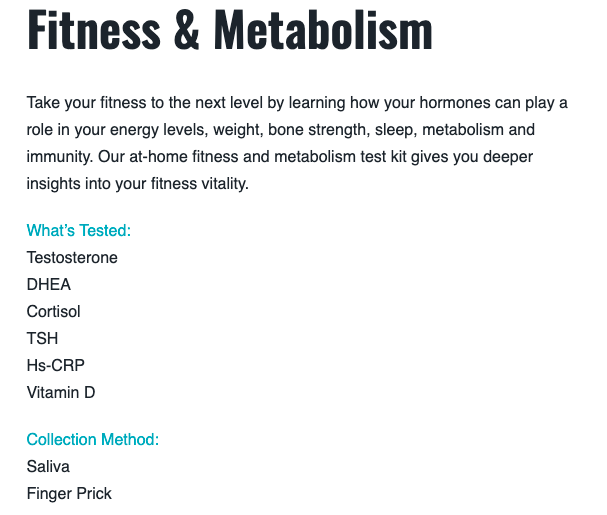 The ordering process was simple and easy. I received an email directly after purchase letting me know an account had been created (including an automatically generated password) and that my order was received. I ordered on a Saturday, and the order shipped out on the following Monday. Three days later I had the test kit!
At home sample collection
Opening up my at-home kit I could tell immediately this wasn't a typical at-home testing service. Tests I have done in the past didn't have a lot of direction - mainly "take a blood sample and mail back!" BodyHealth IQ, however, came with detailed instructions and strict particulars on when and how to take the samples which ultimately gave me more confidence in the accuracy of the results.
In the test kit:
Detailed instructions for each sample collection (blood and saliva)
Information sheet that requires input on your health and timing of sample collection
Collection vial for saliva
Single use lancets (2) for finger pricking
Blood sample collection card
Alcohol pad, gauze and band-aids for post finger pricking
Biohazard bags for returning samples
Prepaid shipping envelope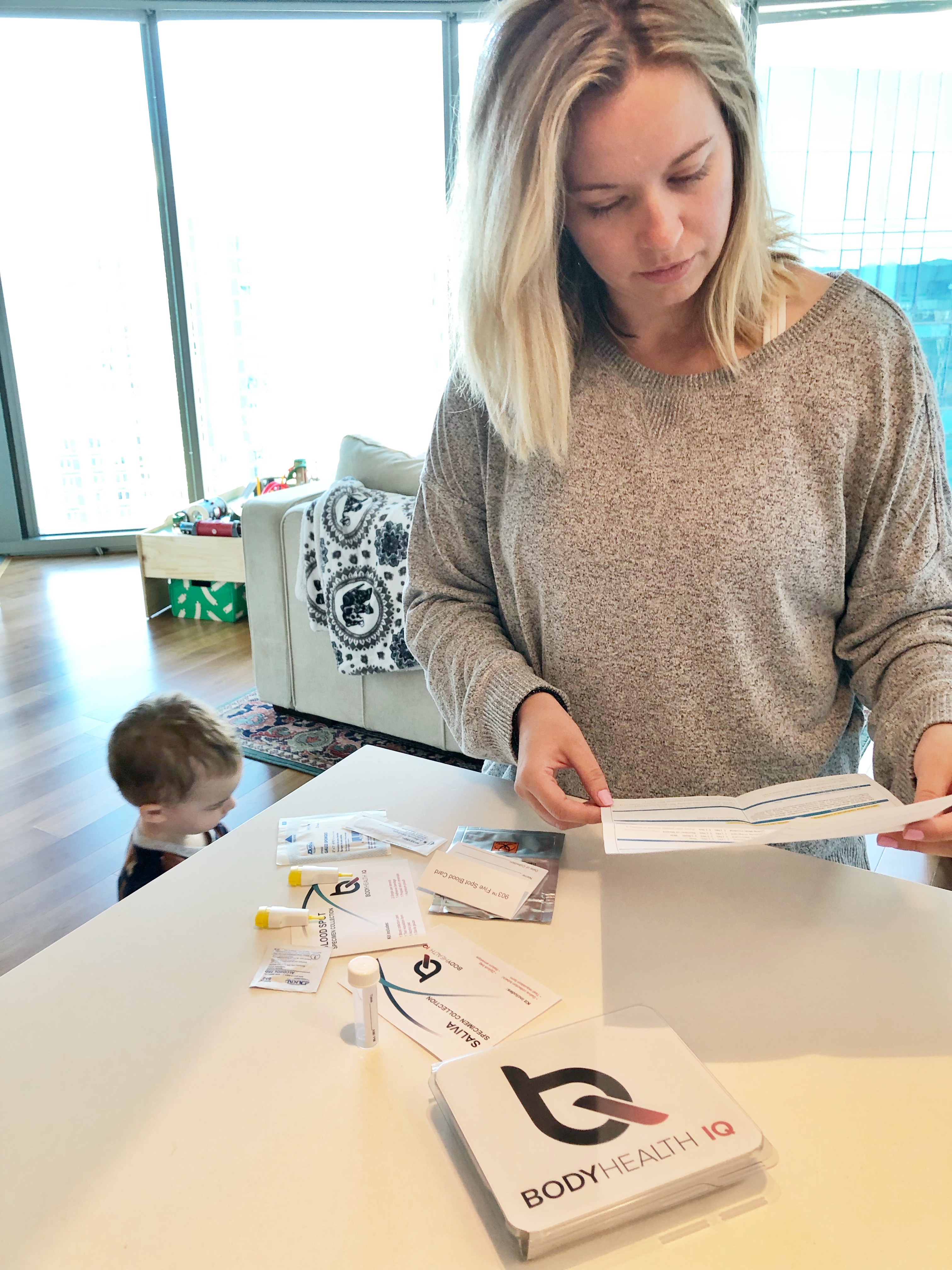 I recommended reading through all the test information as soon as you receive it, so you know exactly when and how to collect your samples. For the blood sample, I needed to be within a particular window of my menstrual cycle and have fasted for around 10 hrs. For the saliva sample, no food 30 mins before sample collection with a quick water rinse about 10 mins before. This did require a bit of planning but as I said before, it only made me feel more comfortable with the professionality of the at-home test. Note: for women, as this at-home kit focuses primarily on hormones, you are asked to share information like your cycle and use of hormonal birth control.
With all the requirements, it makes the most sense to take the samples first thing in the morning. The actual collection was straightforward (minus a toddler running around.) One finger prick, a minute spitting into a collection vial, and I was all done. The blood sample needed to dry for about 30 mins. It's recommended to place the dried blood sample in the fridge until you're ready to mail it out (in the biohazard bag.)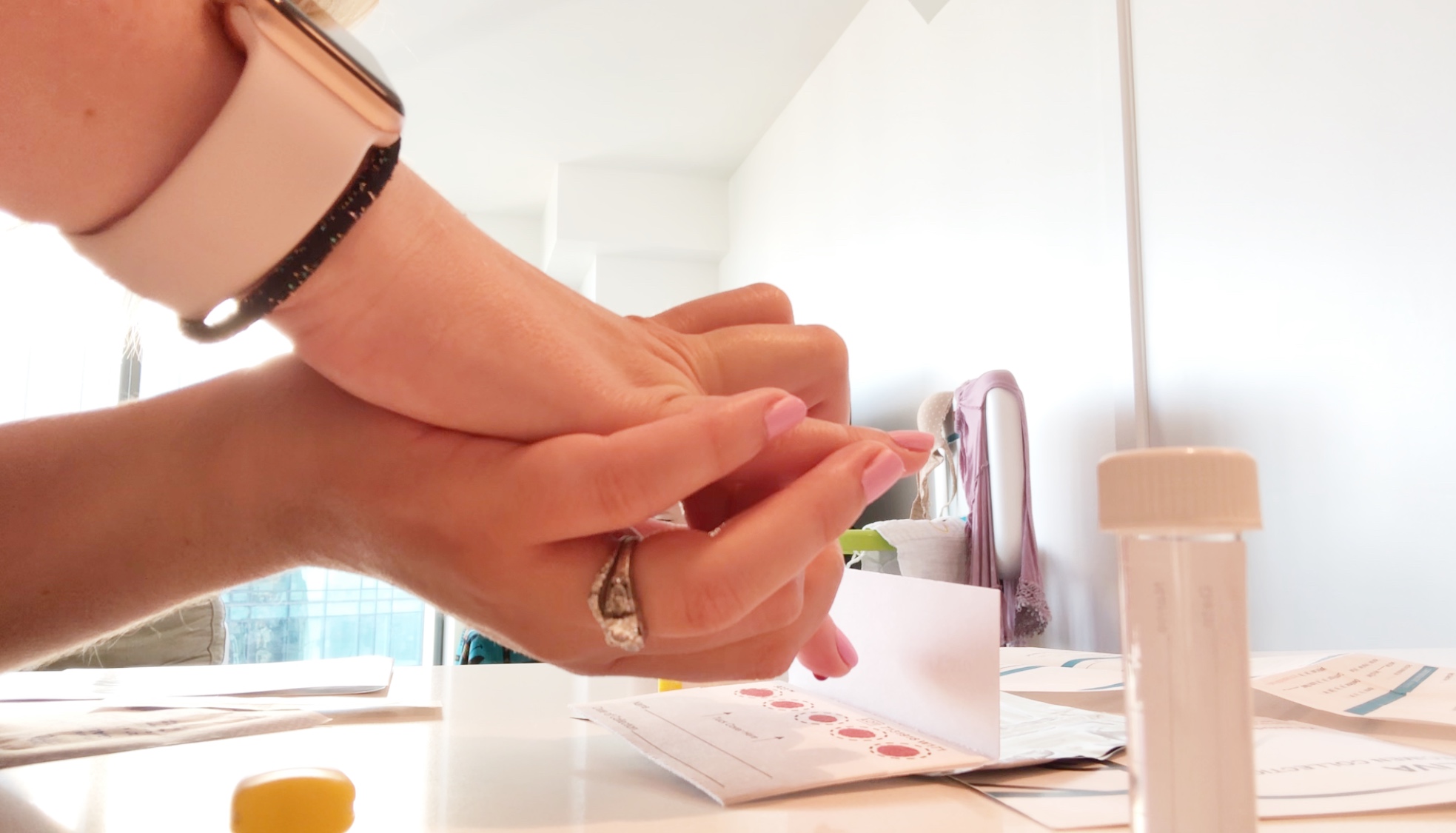 Later that day, my at-home test was on its way back to the lab!
Results
One week later, I received an email letting me know my results were in. I logged into my account dashboard to view the report - below is an example of what I received: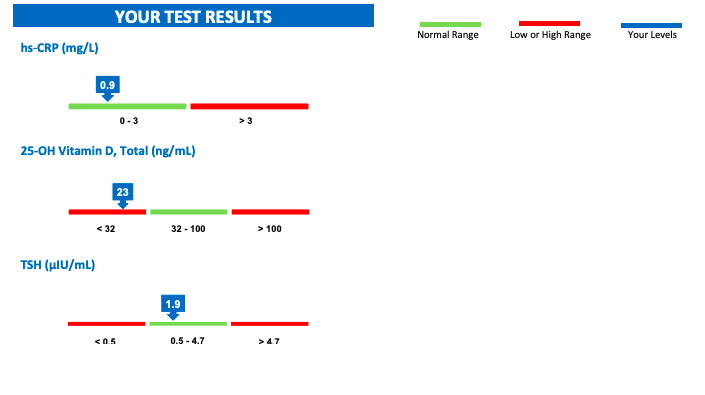 Not surprisingly, my vitamin D levels are low (a chronic issue I've always had), and I've since incorporated a supplement to help!
I appreciated the added information on what each of the hormones means and how their levels affect health: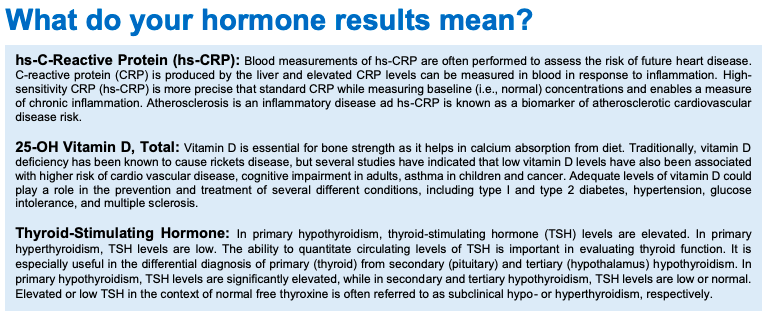 My other hormone levels were in normal ranges but had they not been, this report would be a great resource to bring into a doctor for additional support.
Specific BodyHealth IQ at-home tests do come with a Wellness Consultation add on option for $59. The add on is an excellent option if you want a deeper dive into what the results mean or if you would rather talk with a medical professional from the comfort of your own home.
My takeaways
I feel energized by my results and much more confident going into my health journey.
The at-home test process felt professional and thought through. I appreciated the detailed collection guideline and drive for accuracy, like the company actually cares that the testing is done correctly and isn't just trying to make a dollar.
For the convenience of at-home sample collection, the turn around time on all ends was perfect.
If you're looking for options in medical tests you can do from home, I recommend checking BodyHealth IQ out. The company has some great options and don't forget to use code Wander15 for $15 off your first test!
Thank you BodyHealth IQ for sponsoring this post! I received complimentary products from BodyHealth IQ in exchange for this review. All opinions expressed in this post are mine, and the product service tested was of my choosing.