Are you spending some time in Maui and searching for a new adventure? Looking to get away from the cruise crowds? And/or, do you love cats? If you answered yes to any of those questions, you should consider a day trip to Lanai!
Having visited Maui on a previous holiday, I decided to look into alternate options when I learned our Hawaii cruise would be stopping at the island. I discovered that it would be easy to jump on a ferry to Lanai, the small island to the west of Maui (owned by Larry Ellison?!), and began planning out our day trip.
Before arriving in Maui
I booked our roundtrip ferry tickets about a month in advance. You can also purchase the tickets at the ferry dock, but since I was on a cruise and needed the certainty of return times, it made the most sense to book ahead. You can book tickets here: Expeditions
Cost: ADULT $30.00 each way, CHILD $20.00 each way
The ferry takes about 45 mins each way, so make sure to estimate how much time you need to get around.
I also reserved a rental car a month in advance of our arrival. You'll need a 4-wheel drive vehicle if you plan on going to the northwest side of the island (see pics below!) Almost all of the rental companies provide Jeeps and they can be booked up early, depending on the season. I used Lanai Jeep Rentals because they made the process amazingly easy. A Jeep was waiting for me at the ferry parking lot, and I only needed to refill the tank and drop back off at the ferry when I headed back to Maui. Another company I spoke with requires costumers to take a taxi ride to Lanai City, which was not only inconvenient while traveling with a toddler, but also an added cost. Most companies charge the same ($149 for the day), a little steep but understandable given the wear and tear on the cars.
Side note: The person I spoke with about reserving the Jeep was great and had a big personality. His name is Mikee, and if you book with him, he'll send you maps, pictures, and all the info!
Arrival Day
Our ship anchored at 8 am. We had to take a tender over to Lahaina Harbor, our cruise port for Maui, and the location of the ferry to Lanai. We caught one of the first tenders over and went to the Lanai Expeditions booth to check-in and grab our printed tickets. Make sure at least one person in your group has an ID (if you're on a cruise, everyone should have their ID.) We then spent about 30 mins exploring the dock before jumping in line for the 9:15 am ferry ride.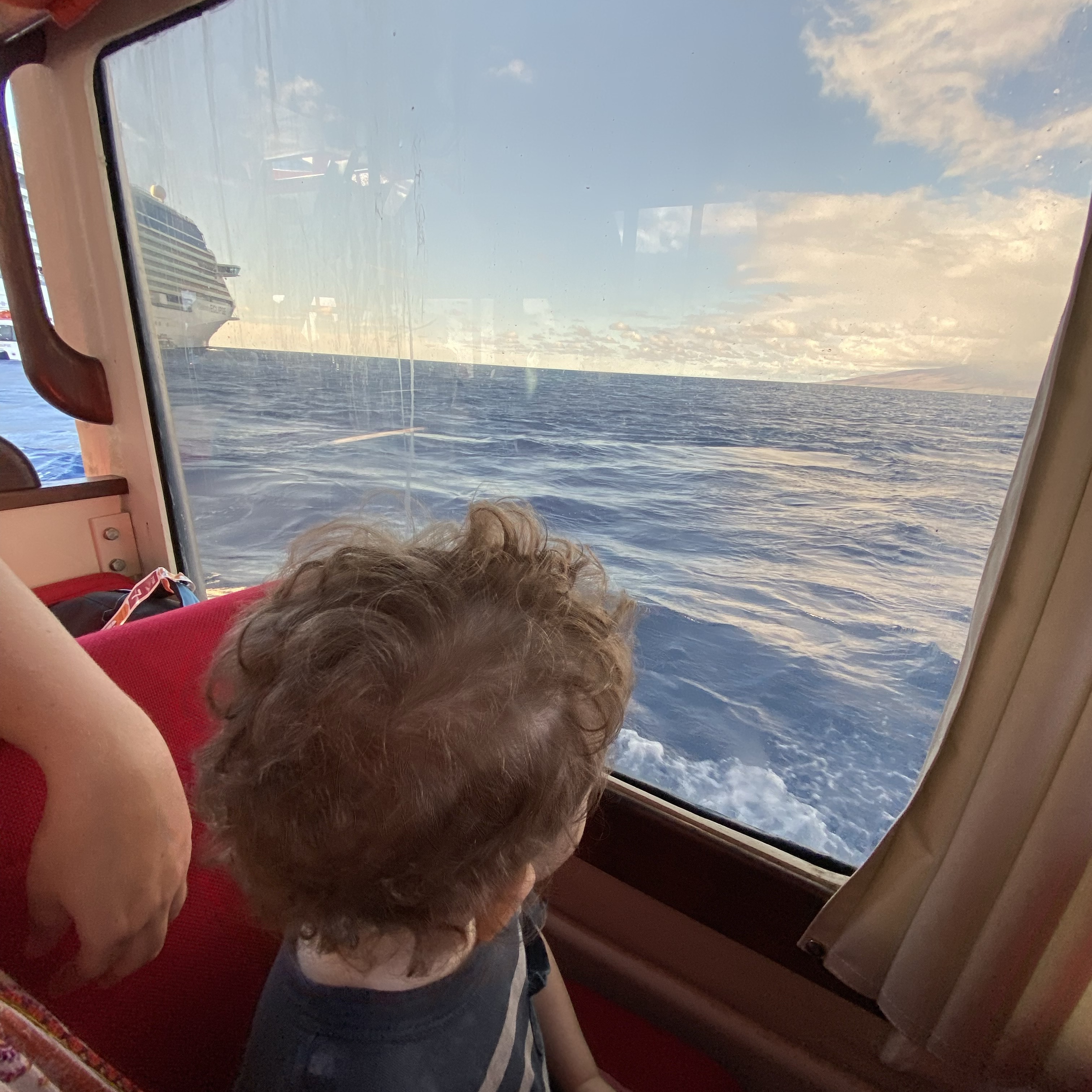 (On the tender!)
There are some cute shops and places to grab a coffee at Lahaina, as well as multiple other tour operations. Not going to lie, I saw this one - Atlantis Submarines Maui - and would love to do this with my toddler in the future!
I noticed a lot of people had coolers and chairs with them. We weren't planning on making a day at the beach on the island, but if you do, it might not be a bad idea to do a little food shopping beforehand! There are some shops in Lanai City and as well as right at the Lanai ferry dock if you'd prefer to grab food once on the island.
The ferry itself was clean and comfortable. We sat in the front, on the inside, and had a whole area to ourselves. Plenty of space to store strollers, car seats, coolers, etc. If you get motion sickness, I'd recommend addressing it before heading out as both my husband and I were a little queasy. Fortunately, 45 minutes isn't long at all.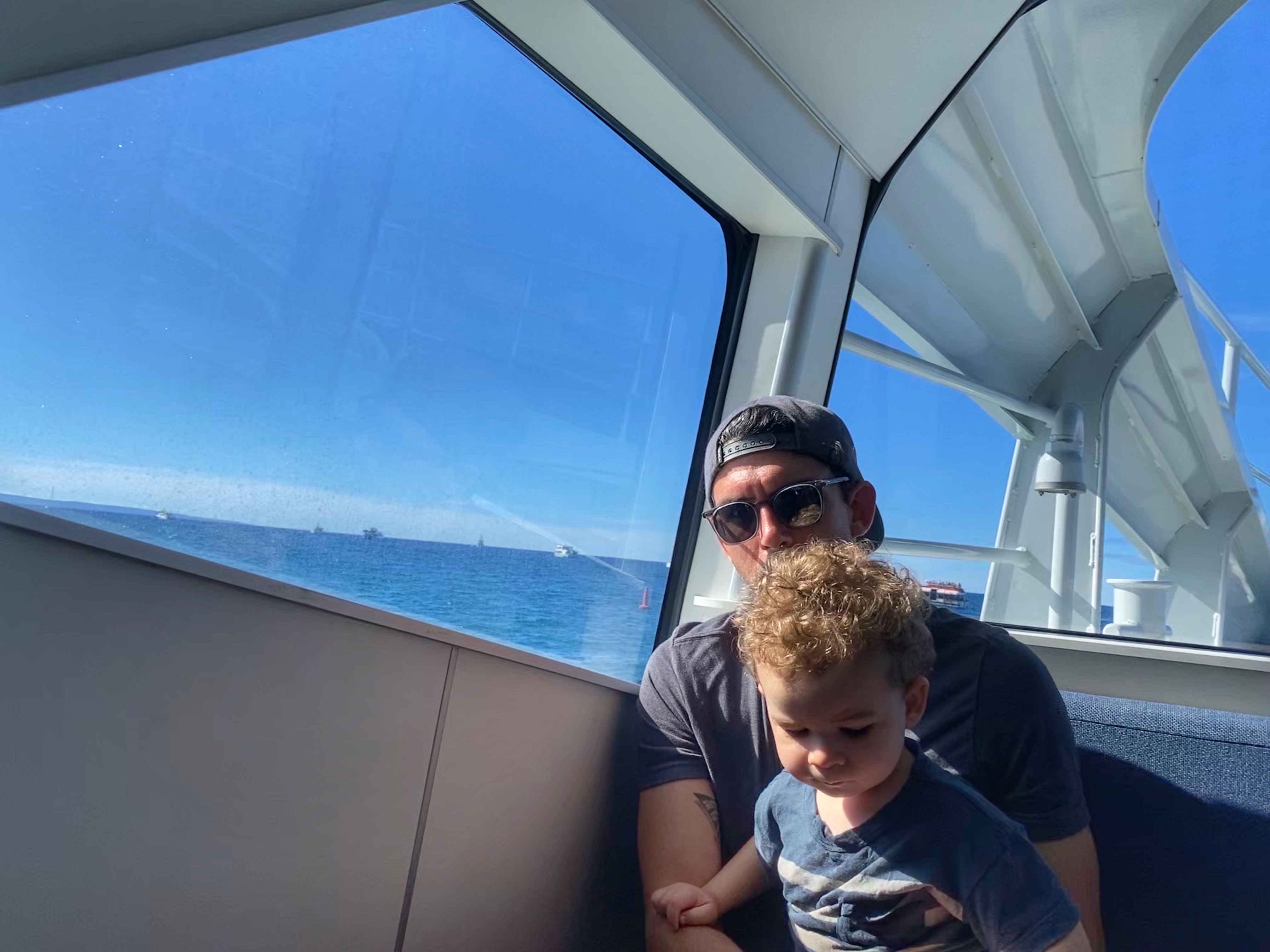 Once we made it to Lanai, we grabbed some waters and snacks at the local store, went to the restrooms (right as you come off the ferry), walked up the stairs to the parking lot, and found our Jeep. Mikee had sent me a picture of where it was parked and where the keys were - incredibly easy. In the back of the Jeep were chairs and an umbrella for the beach, which I thought was a nice gesture!
Driving around Lanai
GPS worked for the most part, but I also made sure to know by memory where we were heading should our phones not have service. Luckily there are only a few roads on the island and not easy to get lost.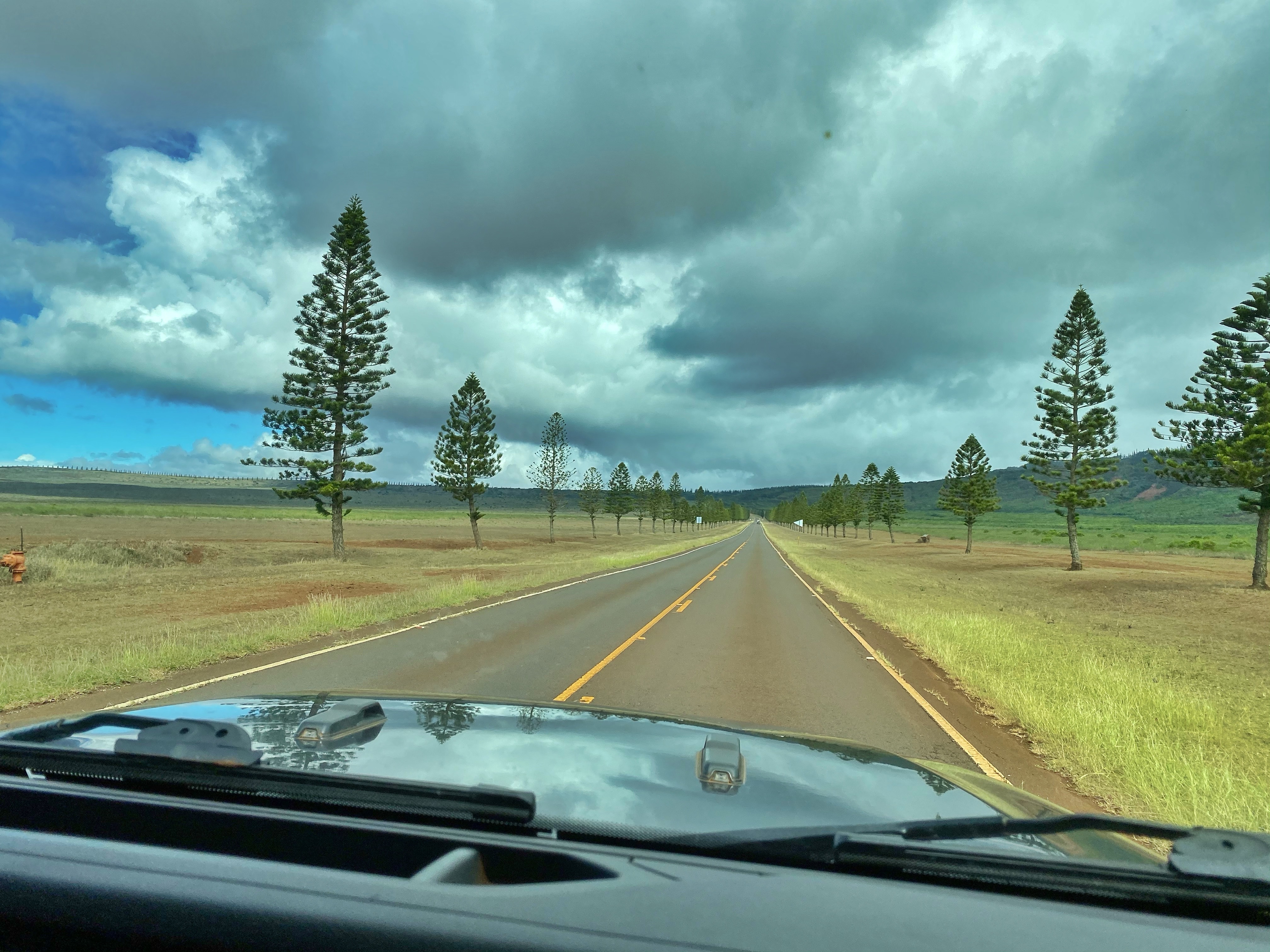 Our first stop was the Lanai Cat Sanctuary! Around a 25 minute drive from the ferry, this place is a paradise for cats. You can learn more about them on their website, which I linked, but the overall gist is that the sanctuary saves cats while protecting the local bird populations. There are currently 500+ cats onsite (available for adoption!!), the facility is FREE to enter, and parking is easy. When we arrived, the staff member gave everyone a big bag of treats to hand out to the cats and told us all some information about the sanctuary.
We spent about an hour and a half petting, cuddling, and (in my son's case) chasing around kitties. The site provides cat brushes and toys you can use to engage with, but honestly, the cats were already so friendly and well-adjusted to humans. We didn't want to leave, but with only a with hours left to explore, we had to head to our next site.
Note: Please consider donating to the sanctuary should you decide to visit, or even if you just love cats. It's such a beautiful place.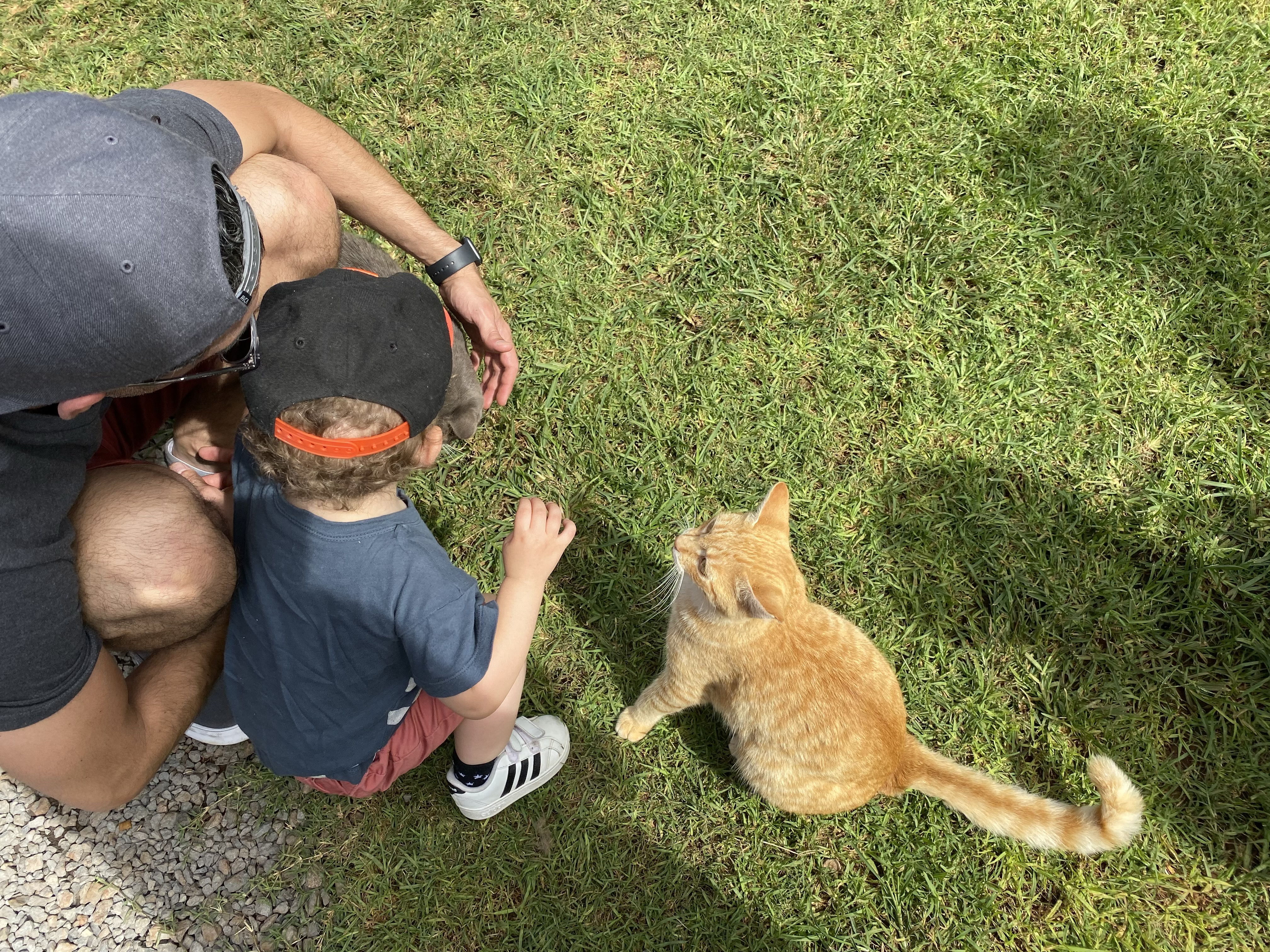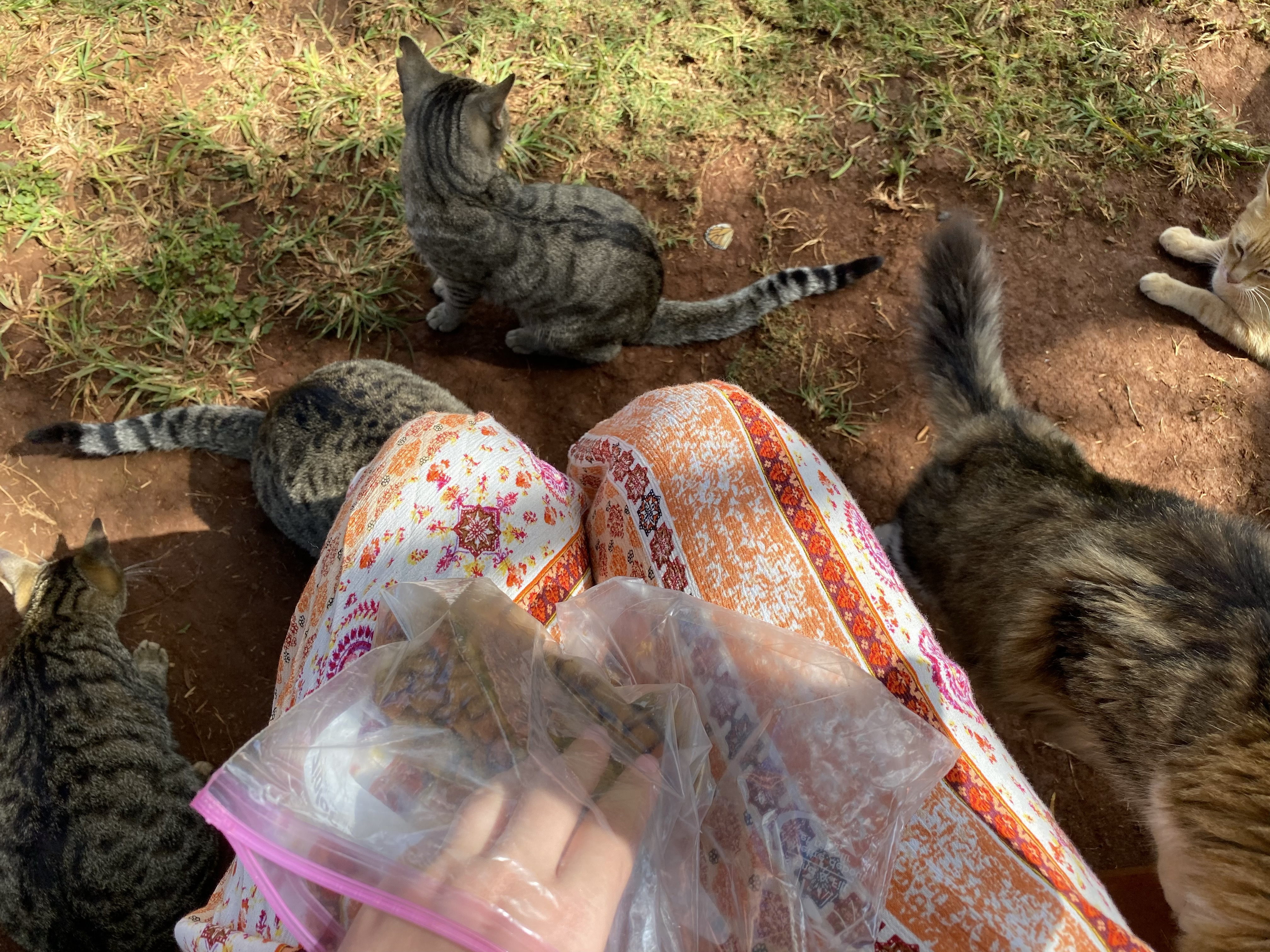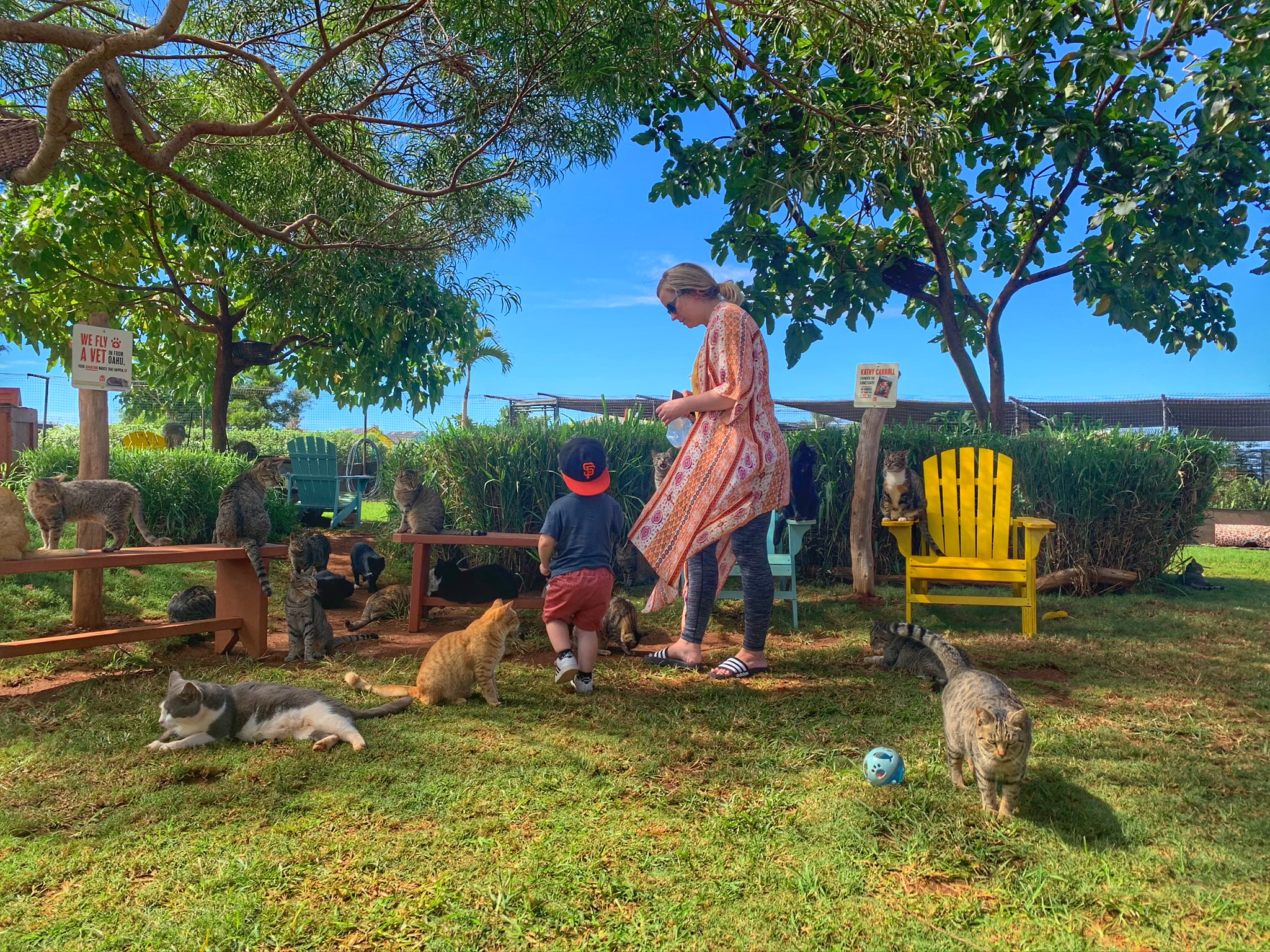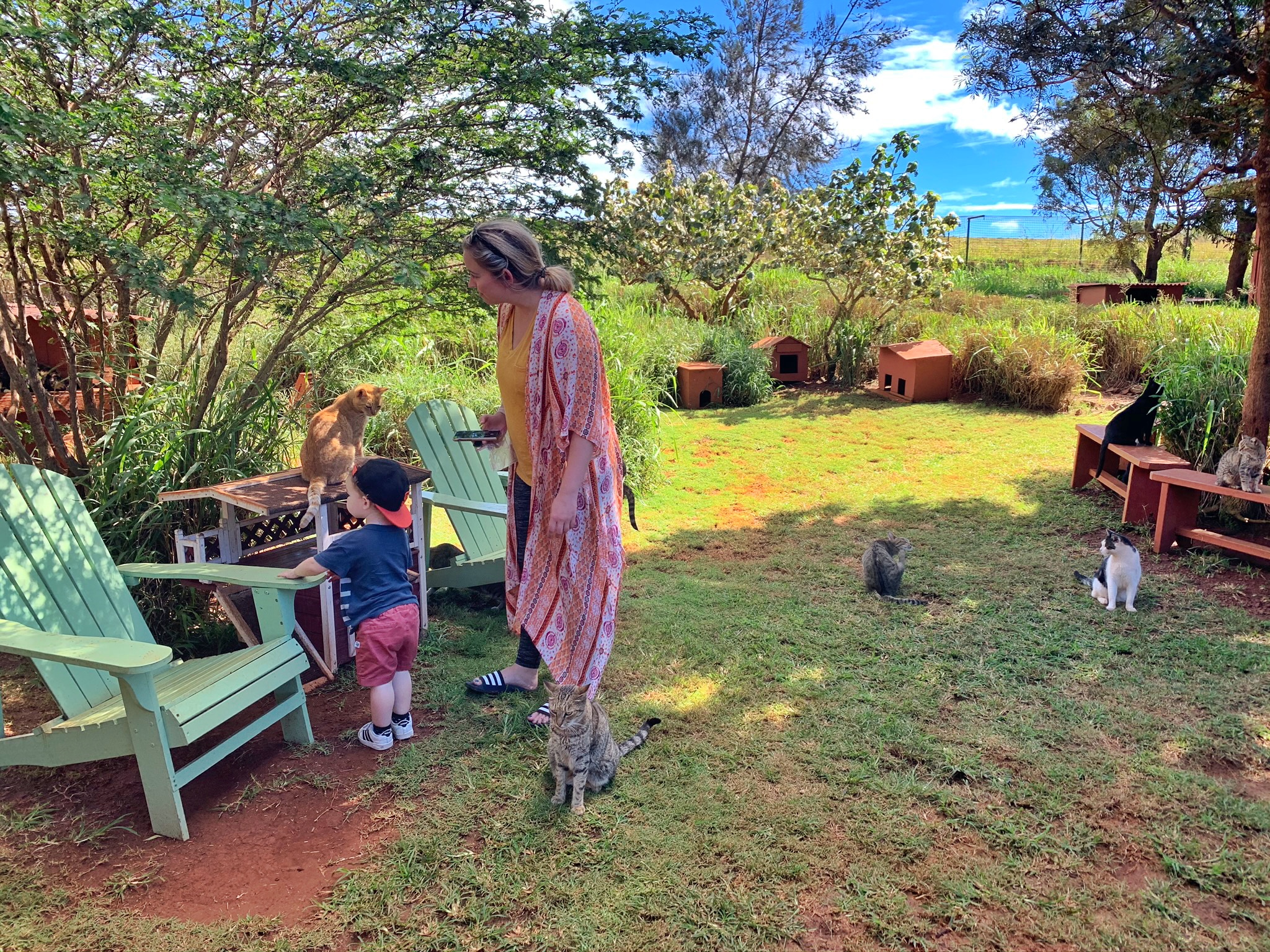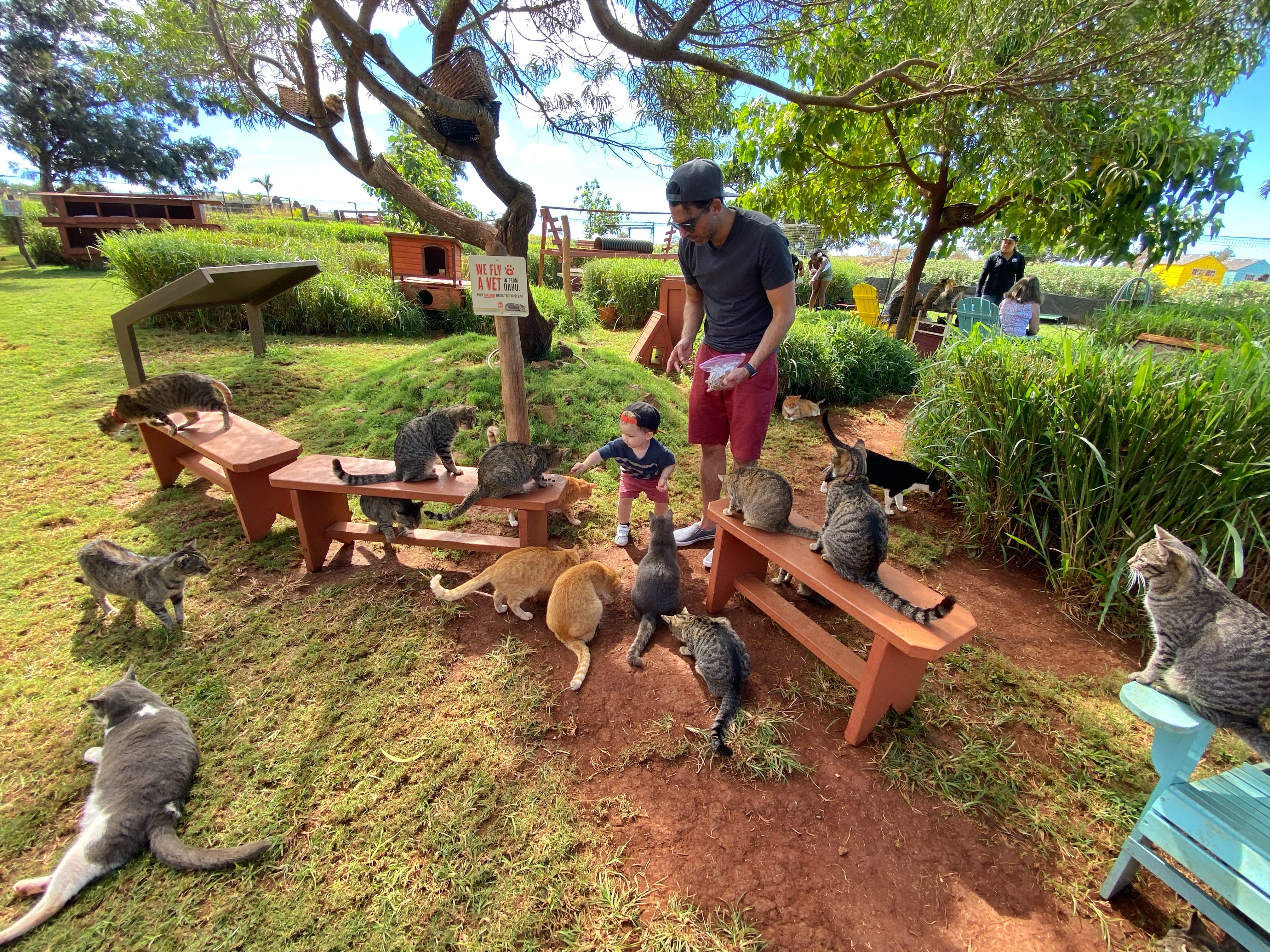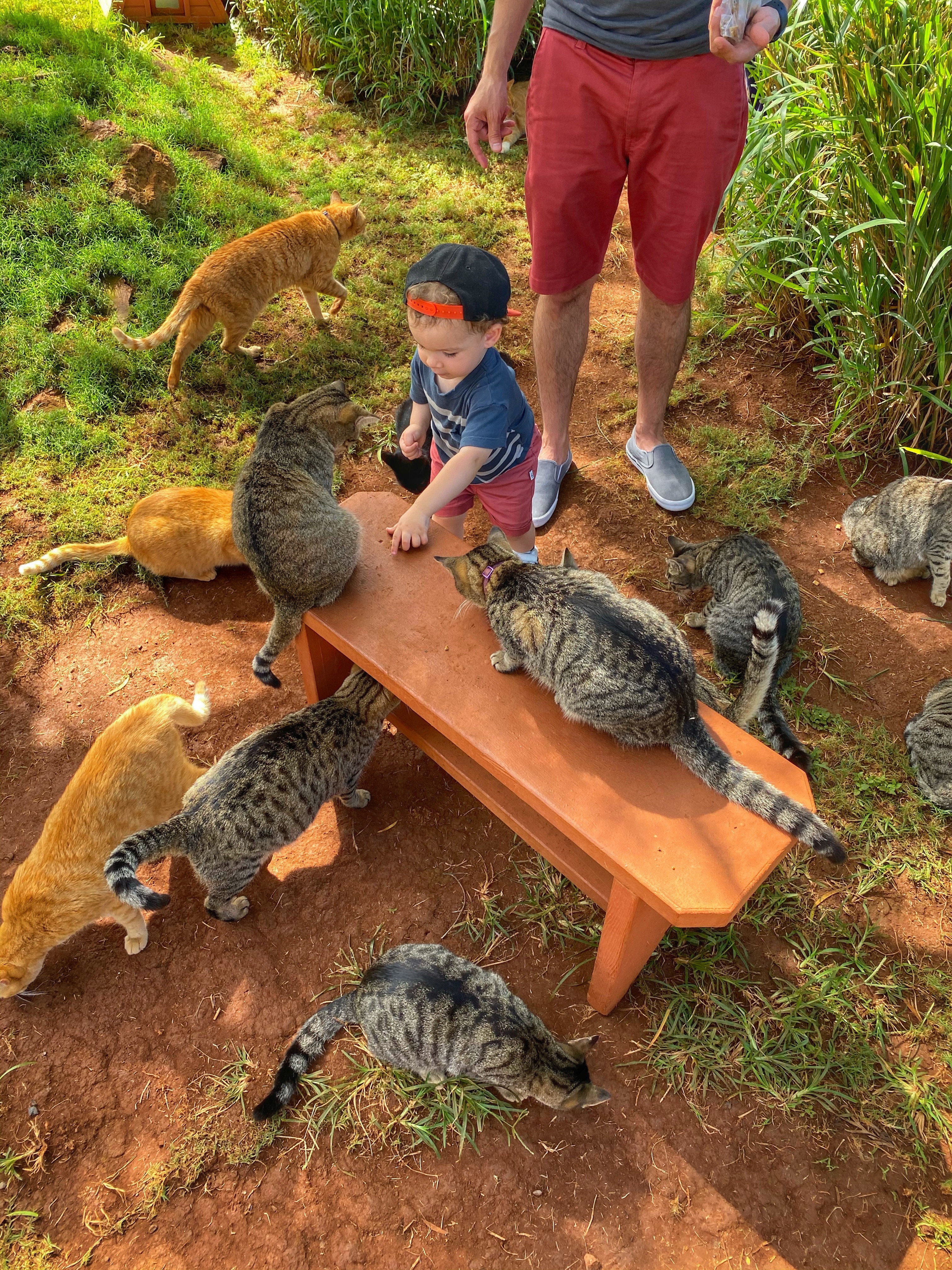 Our next stop was the Garden of the Gods. Located on the northwestern part of the island, the drive to this scenic spot is where a Jeep is crucial. Most of the trip was on a dirt road with some serious divets, but if you've been to Hawaii before, you'll know this isn't abnormal, and the way is safe to travel. We saw about four other cars coming and going on our journey.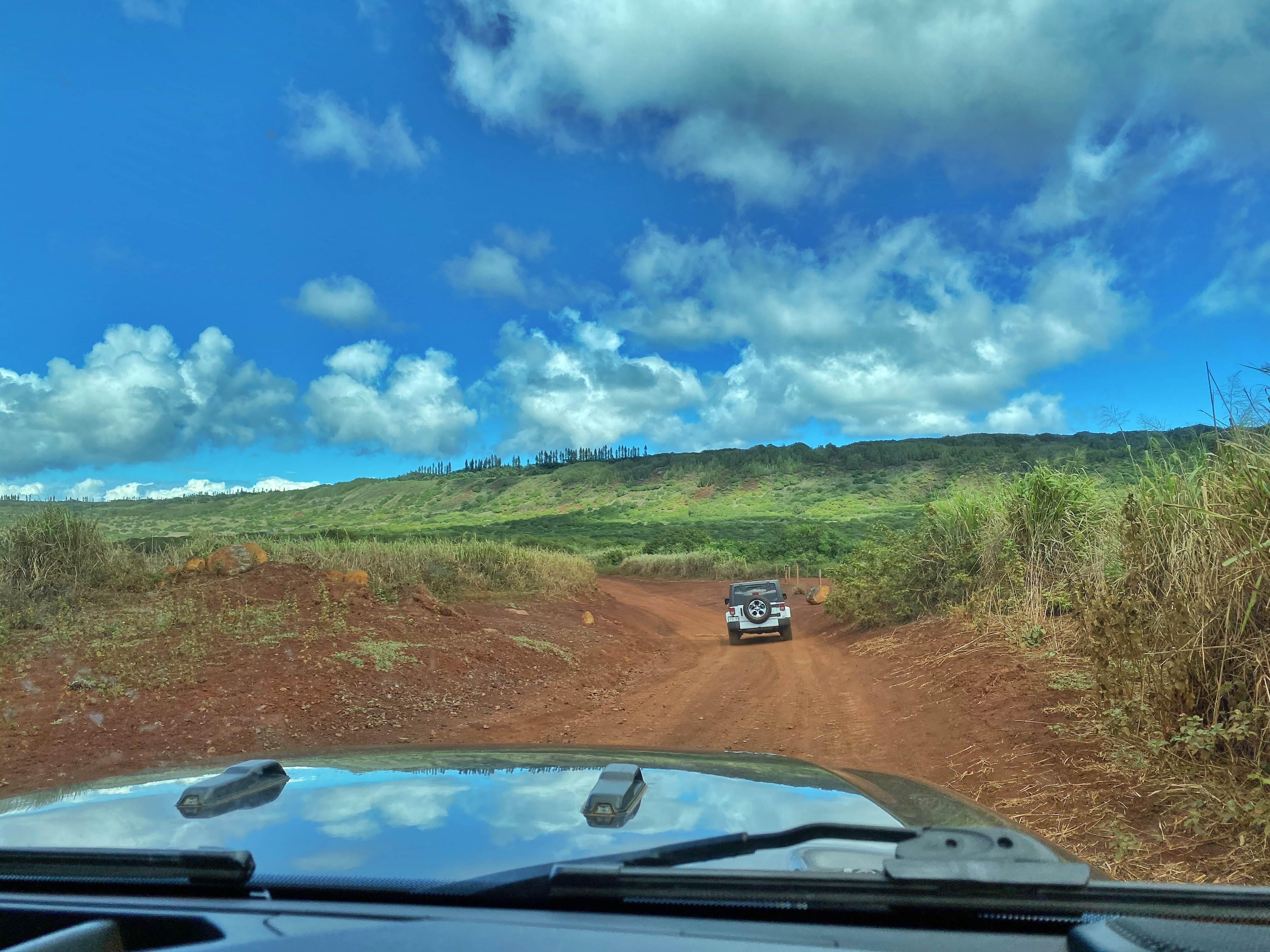 The Garden of the Gods is like being on Mars. Beautiful, rocky, and barren. The trip itself was an adventure, and when we finally reached an overlook, we thoroughly enjoyed the view. The trip out and back might have been my husband's favorite part - he loves crazy car rides.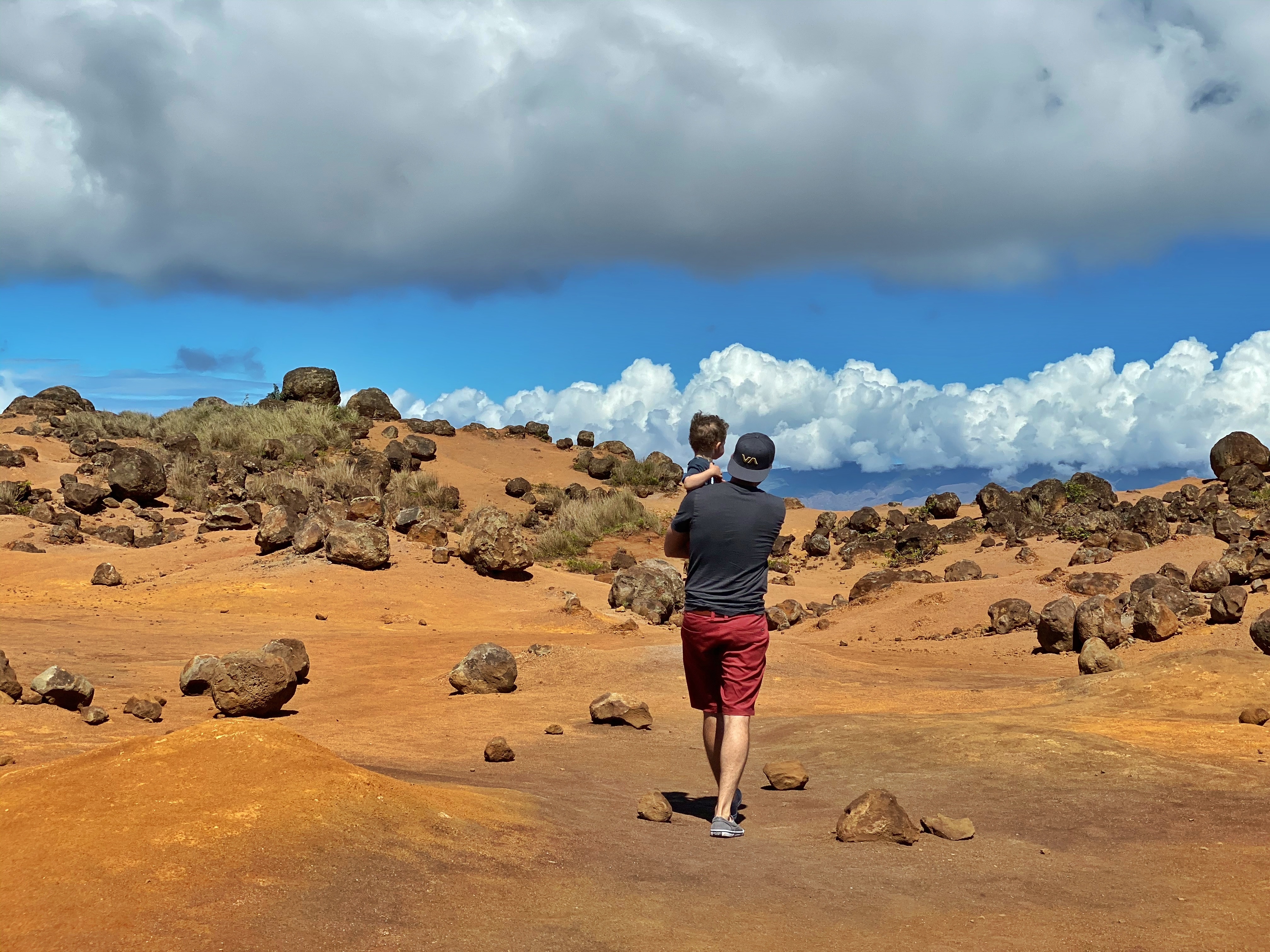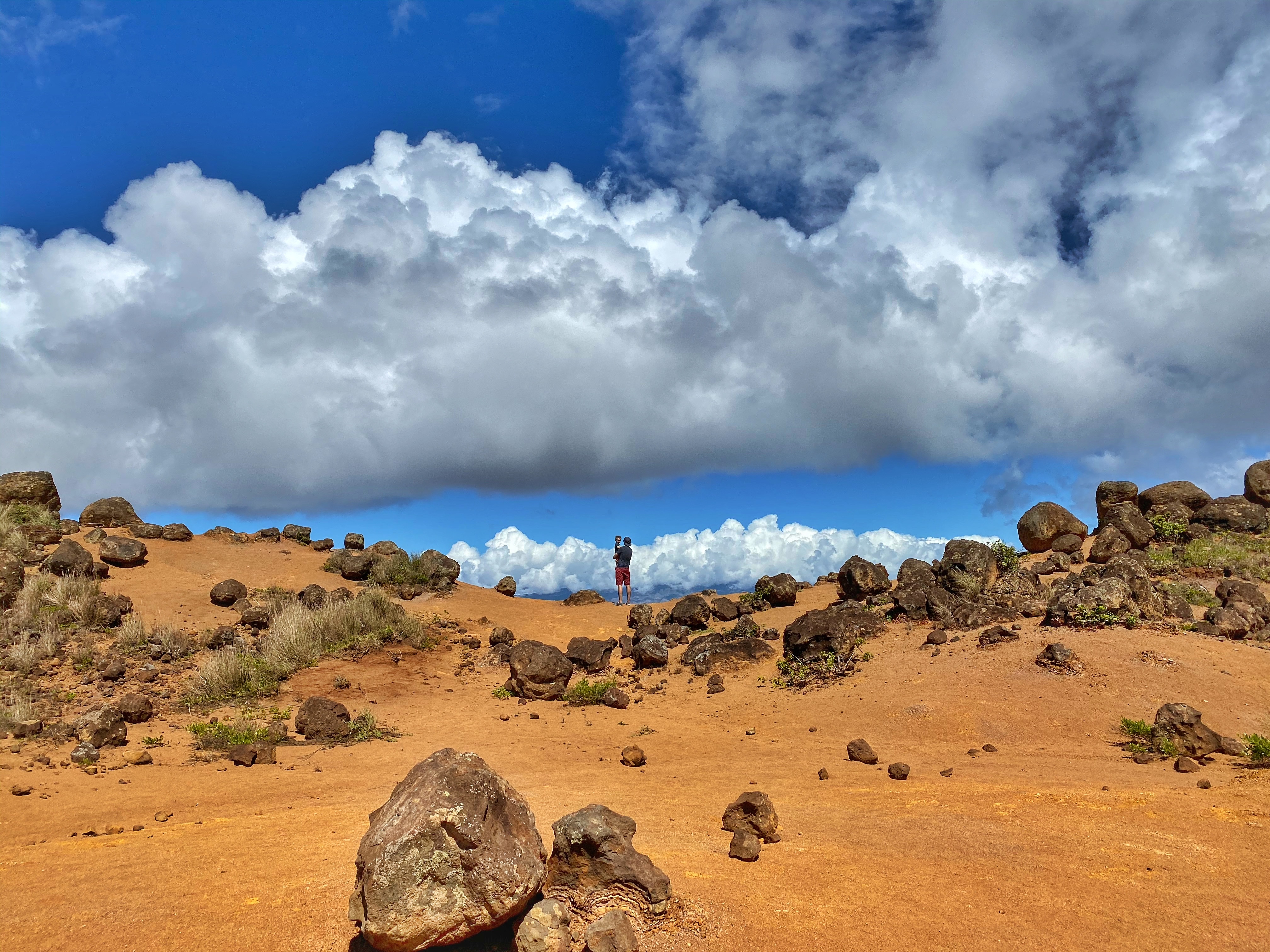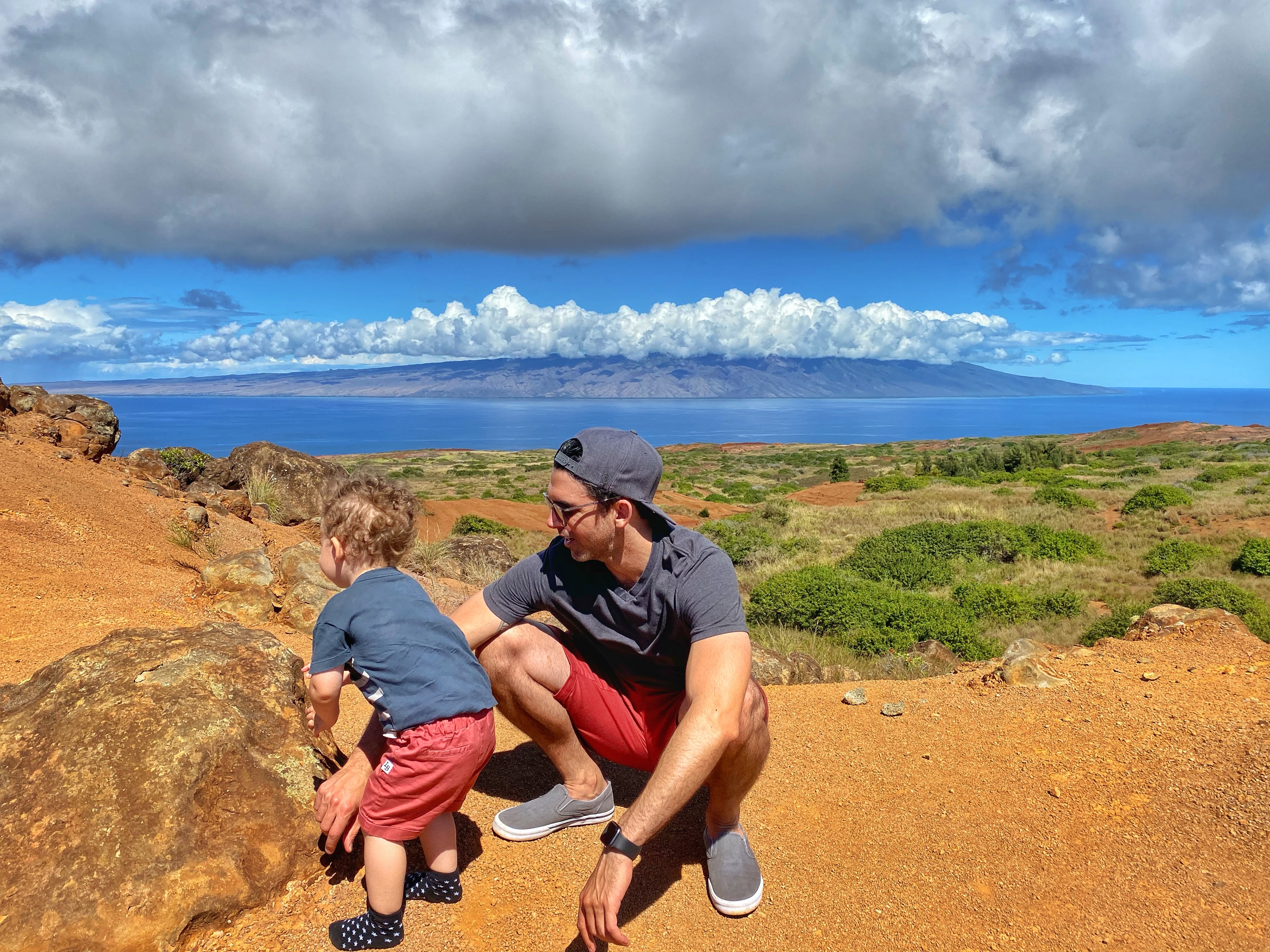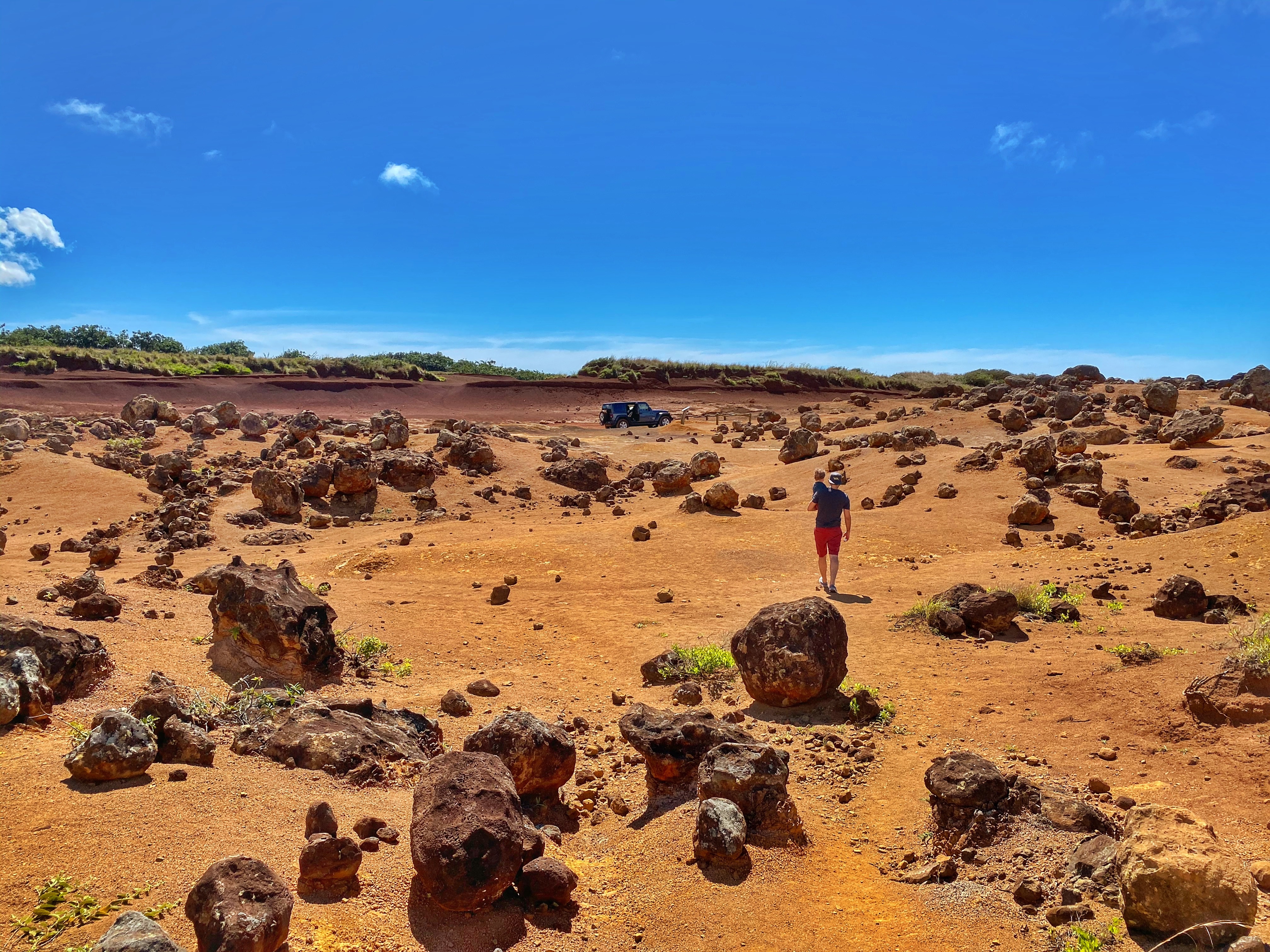 After visiting the Garden of the Gods, we headed to Lanai City for the final stop of our day in Lanai. We found a little grocery store, Richard's Market, and bought a few scoops of delicious poke for a quick lunch outside. After eating, we stopped at the gas station down the road to fill up the tank and headed back to the ferry terminal.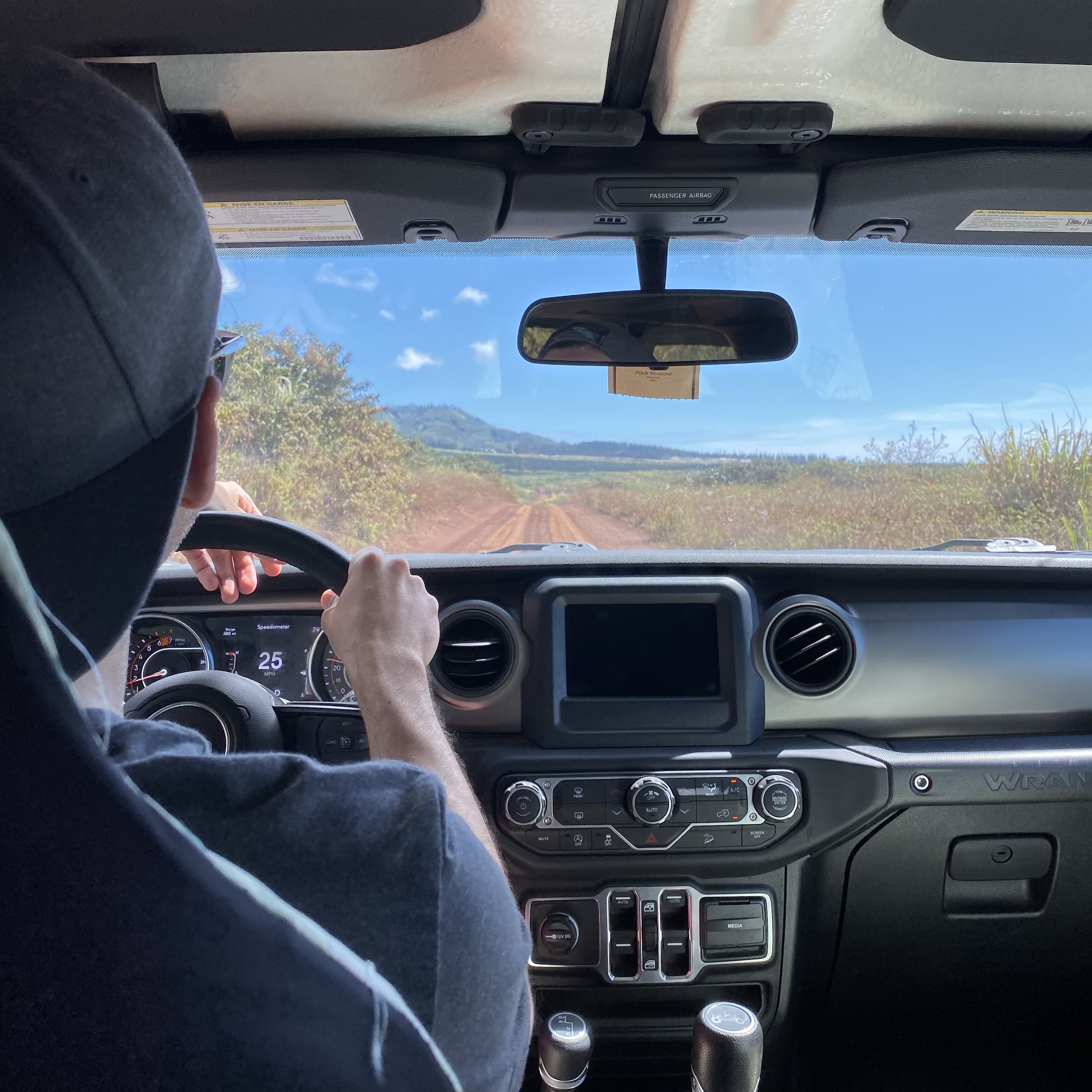 Until next time Lanai!
Dropping the car off was as easy as picking it up. I let Mikee know we were heading back to Maui and where I had left the car. The trip back on the ferry was a bit more crowded but still comfortable. Our cruise tender was right around the corner when we docked in Maui, so all in all, everything was very convenient.
There are many more spots you can check out in Lanai, including the beach and some other off-roading adventures. Check out Go Hawaii for more ideas - and if you feel like staying on the island, there is a gorgeous Four Seasons hotel and the more affordable, quiet spot of Hotel Lanai!
Happy wandering!